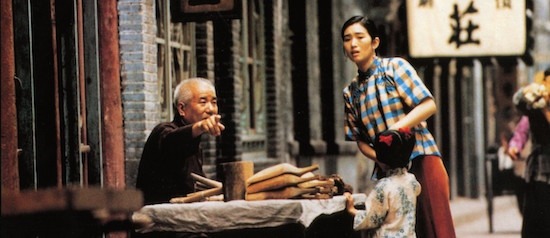 FREE ONLINE SCREENING & LIVE EVENT
NEA Big Read 2021: Bidding Farewell in Zhang Yimou's To Live
Thursday, March 18, 7:00 p.m.
Free online screening followed by discussion with scholars Hsiu-Chuang Deppman and Michael Berry, presented in collaboration with the Museum at Eldridge Street.

A cornerstone of director Zhang Yimou's international breakthrough period in the nineties, To Live (1994), adapted from Yu Hua's novel of the same title, is the searing, epic saga of a married couple living through decades of turmoil across China's tumultuous mid twentieth century. Gong Li and Gou Ye give riveting performances as Jiazhen and Xu Fugui, who experience joy and suffer tragedy, and watch their fortunes change from the post-WWII rise of the People's Liberation Army to the Great Leap Forward of the fifties to the Cultural Revolution of the sixties. To Live won Best Actor and the Grand Prix at the 1994 Cannes Film Festival. Museum of the Moving Image will host a presentation by Hsiu-Chuang Deppman (Oberlin College), followed by a conversation between Deppman and Michael Berry (UCLA), which explores Zhang Yimou's deeply cinematic approach to the novel's narrative.

To Live
. Dir. Zhang Yimou. China, 1994, 133 mins. In Mandarin with English subtitles.
RSVP here. An email from events@movingimage.us will be sent on March 17 to view the film online (available from 12:00 p.m. ET on this day through March 18 at 11:59 p.m. ET) and to join the conversation.
From March 8 through 18, Museum at Eldridge Street will be exploring Yu Hua's To Live in a series of lectures, book discussions, and film screenings with partners from China Institute, Chatham Square Library of New York Public Library, and Museum of the Moving Image. Learn more about the other programs by clicking here. Borrow a copy of the book To Live from the New York Public Library (English-Language E-Book) (English-Language Book) (Chinese-Language Book).
About the speakers:
Hsiu-Chuang Deppman is Professor of Chinese and Cinema Studies at Oberlin College where she teaches Chinese film, literature, and language. Her research interests include history of cinema, film adaptation, documentary, media studies, comparative literature, and modern Chinese fiction. Author of Adapted for the Screen: The Cultural Politics of Modern Chinese Fiction and Film (University of Hawai'i Press, 2010) and Close-ups and Long Shots in Modern Chinese Cinemas (University of Hawai'i Press, 2020), she has also published on narrative theory and Asian popular culture in refereed journals and edited volumes. She is currently writing a new book on Jia Zhangke's cinema of reflection.
Michael Berry is Professor of Contemporary Chinese Cultural Studies and Director of the Center for Chinese Studies at UCLA. He is the author of several books on Chinese culture cinema, including Speaking in Images: Interviews with Contemporary Chinese Filmmakers (2006) and A History of Pain: Trauma in Modern Chinese Literature and Film (2008). He has served as a film consultant and a juror for numerous film festivals, including the Golden Horse (Taiwan) and the Fresh Wave (Hong Kong). He is also the translator of several books by contemporary Chinese writers, including Wild Kids (2000), Nanjing 1937: A Love Story (2002), To Live (2004), The Song of Everlasting Sorrow (2008), Remains of Life (2017), and Wuhan Diary (2020).
NEA Big Read is a program of the National Endowment for the Arts (NEA) designed to broaden our understanding of our world, our communities, and ourselves through the joy of sharing a good book. The Museum at Eldridge Street is one of 78 not-for-profit organizations to receive a grant to host an NEA Big Read project between September 2019 and June 2020.
NEA Big Read is a program of the National Endowment for the Arts in partnership with Arts Midwest.