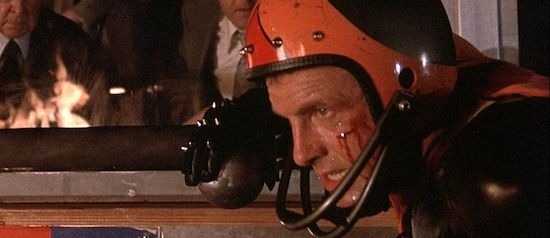 SCREENING
Rollerball
Part of The Caan Film Festival
Saturday, July 17, 2021, 3:00 p.m.
Museum of the Moving Image - Redstone Theater
Dir. Norman Jewison. 1975. 125 mins. 35mm. With James Caan, John Houseman, Maud Adams, John Beck, Moses Gunn. After inhabiting football players in both Brian's Song and The Rain People, and a famously fist-happy thug in The Godfather, the physically formidable Caan was asked to tackle two typecast tropes at once for Rollerball. This thoroughly '70s dystopian yarn posits a corporate-controlled future in which the world's most popular sport is a roller derby death match invoking the unholiest elements of gridiron, hockey—even pinball—and anticipating the bloodlust fandom of extreme fighting. When a blue-blooded honcho (Houseman) decides that the league's best player has become too popular, a Spartacus-style, elbow-padded revolt gathers out on the rink.
Tickets for a July 11 showing will go on sale soon.
Tickets: $15 / $11 seniors & students / $9 youth (ages 3–17) / $7 MoMI members. Order online. After your purchase, an electronic ticket will be sent via email. All seating is general admission. Please review safety protocols before your visit.