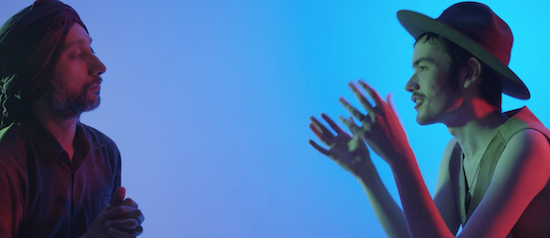 SCREENING & LIVE EVENT
Cross Eyed
Part of First Look 20/21
Saturday, July 24, 6:30 p.m.
Museum of the Moving Image - Redstone Theater
With Amit Desai and cast in person
Dir. Amit Desai. U.S., 2021, 100 mins. In this brash, exhilarating work, artist-photographer Amit Desai commingles ostensibly observational footage of the troupe of precocious thespians rehearsing a blank-verse play called "The Highway" across New York's public parks with studio interviews where the performers reflect on personal traumas, class experiences, artistic ideals, and normal adolescent anxiety with the abnormal anxiety of an authoritarian moment. As Desai pushes the young people deeper into the material and themselves, stealth interventions, surreal reveries, and montage shocks proliferate in a kaleidoscopic form evocative of Dada, situationist prank, and commedia dell'arte. Not so much blurring as tearing down the boundaries between documentary and fiction, reality and theater, social and artistic space,
Cross Eyed
offers an incandescent impression of the city's restive youth on the cusp of the Floyd rebellion that conjures the iconoclastic spirit of the New York underground cinema of the 1960s.
World premiere.
View trailer.
Tickets: $15 / $11 seniors & students / $9 youth (ages 3–17) / Free for MoMI members. Order online.
After your purchase, an electronic ticket will be sent via email. All seating is general admission. Please review safety protocols before your visit.