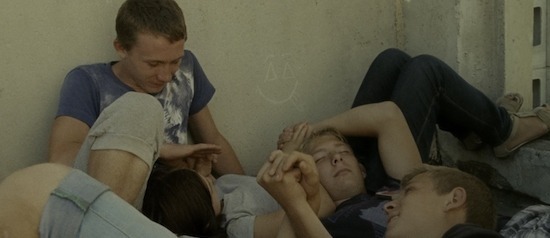 SCREENING
Transnistra
Part of First Look 20/21
Friday, July 30, 4:00 p.m.
Museum of the Moving Image - Bartos Screening Room
Dir. Anna Eborn. Sweden/Denmark/Belgium. 2019, 96 mins. In Russian, Romanian, and Ukrainian with English subtitles. Shot on 16mm and set in the self-appointed nation of Transnistria (Priednestrovia)—a narrow strip of land adjacent to Ukraine that is defined by its Soviet heritage—Eborn's film follows a group of 16-year-olds over a cycle of seasons, witnessing the end of their youth and their first attempts to forge futures within or beyond their small community. At the center is Tanya, a headstrong and sensitive young woman, surrounded by a ragtag group of young males, each of whom seems to be in love with and dependent upon her. In limbo between school and employment, which is hard to come by, the crew explores abandoned construction sites and bucolic lakes, talking candidly with each other and, by extension, Eborn and the audience. Their lives are not easy, but the youths' collective generosity towards Eborn's observational documentation makes Transnistra a privilege to behold and a rare and precious object. U.S. festival premiere
Tickets: $15 / $11 seniors & students / $9 youth (ages 3–17) / Free for MoMI members. Order online.
After your purchase, an electronic ticket will be sent via email. All seating is general admission. Please review safety protocols before your visit.