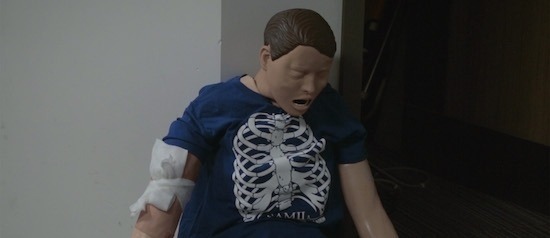 SCREENING
Phases of Matter + When Two or Three
Dir. Deniz Tortum. Turkey. 2020, 71 mins. In Turkish with English subtitles. This immersive depiction of Istanbul's venerable Cerrahpaşa Hospital, where the filmmaker himself was born and where his father has long worked as a doctor, passes coolly through its darkened corridors from the physical spaces of morgue, operating, and observation rooms to the virtual spaces of vital-signs monitors and X-ray machines. With a formal sense of camera movement that embraces the unplanned and unexpected, Tortum crafts a vision pitched between the eerily posthuman and the urgently humanist. North American premiere
Preceded by
When Two or Three
. Dir. Carmine Grimaldi. United States. 2019, 22 mins. In Bagdad, Arizona, a pastor preaches to his last remaining congregant, his wife. A portrait of solitude, eros, and ecstasy.
New York premiere
Tickets: $15 / $11 seniors & students / $9 youth (ages 3–17) / Free for MoMI members. Order online.
After your purchase, an electronic ticket will be sent via email. All seating is general admission. Please review safety protocols before your visit.