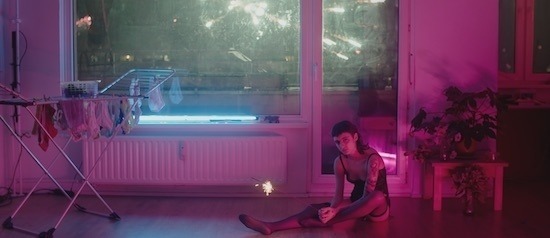 SCREENING
Searching Eva
Part of First Look 20/21
Saturday, July 31, 7:00 p.m.
Museum of the Moving Image - Bartos Screening Room
Dir. Pia Hellenthal. Germany. 2019, 84 mins. DCP. In German, English, and Italian with English subtitles. Eva Collé is a woman who lives in public. A writer, model, queer activist, sex worker, social media personality—all of these apply to the Italian-born Eva. And though all are represented in the film, director Pia Hellenthal takes care to never define Eva, whose notoriety is dispersed among various social media platforms and avatars and purposely avoids being pigeonholed into a fixed identity. It makes for a distinctly voracious exploration of a person, in which our protagonist is not revealed over time—no core personality is revealed after peeling back layers but rather new aspects and identities keep getting added, right until the end. The result is nimble and inventive, but also densely cumulative, incorporating sequences as varied as self-contained musical montages, intimate sexual encounters, and observational portraiture, all of it seemingly, and crucially, conspiratorial between filmmaker and star. Winner of a Special Mention at the 2019 CPH:DOX Awards, and nominated for a 2020 Cinema Eye Honor for Outstanding Achievement in a Debut Feature Film. New York Premiere


Tickets: $15 / $11 seniors & students / $9 youth (ages 3–17) / Free for MoMI members. Order online.
After your purchase, an electronic ticket will be sent via email. All seating is general admission. Please review safety protocols before your visit.