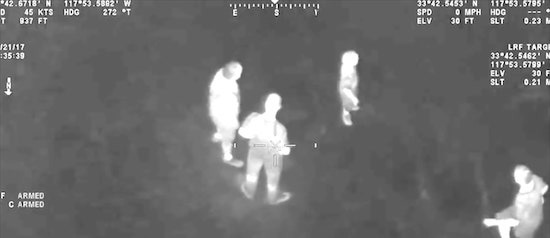 SCREENING
There Will Be No More Night
Part of First Look 20/21
Saturday, July 31, 4:45 p.m.
Museum of the Moving Image - Bartos Screening Room
Dir. Eléonore Weber. France. 2020, 76 mins. Repurposing previously published infrared footage from American and French helicopter missions along the frontlines of the "global war on terror," this hypnagogic essay film undertakes a deconstructionist phenomenology of the tactical gaze, simultaneously simulating and interrogating the perceptual and procedural conditions that govern real-life kill decisions. Measuring her critical perspective against the first-hand, operational perspective of unseen, unheard French pilot Pierre V., Weber lays bare the video-game logic of an ethics that shields the soldier and his masters alike from moral consequence. The degraded and diminished textures of these images constitute a literal fog of war, a visual representation of the structural ambiguities that permit imperialism. New York City premiere
Please be advised this film contains scenes of violence that some viewers may find upsetting.
Tickets: $15 / $11 seniors & students / $9 youth (ages 3–17) / Free for MoMI members. Order online.
After your purchase, an electronic ticket will be sent via email. All seating is general admission. Please review safety protocols before your visit.