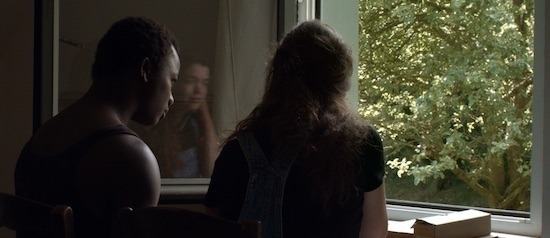 SCREENING
A Beautiful Summer (Le bel été)
Part of First Look 20/21
Sunday, August 1, 1:00 p.m.
Museum of the Moving Image - Bartos Screening Room
Dir. Pierre Creton. France. 2019, 81 mins. In French with English subtitles. With Gaston Ouedraogo, Sophie Lebel, Yves Edouard, Sébastien Frère, Mohamed Samoura, Amed Kromah, Mathieu Amalric. Creton lives and works in a lush farmhouse near the ocean in Normandy. While his films are suffused with the verdant beauty and gentle rhythms of the place, they are also unpredictable hybrids, mixing fiction and observation in unique ways. In A Beautiful Summer, two African migrants who wash up on the shore are invited into the home of Simon and Robert. Others drift in and out of the story, including the pig from Creton's Va! Toto (First Look 2018) and Mathieu Amalric as a motorcycle repairman. The film feels at once like an escape—from conventional cinema and from the turmoil of our media-saturated world—but also a timely and quietly urgent reflection on the place of refugees. North American premiere
Tickets: $15 / $11 seniors & students / $9 youth (ages 3–17) / Free for MoMI members. Order online.
After your purchase, an electronic ticket will be sent via email. All seating is general admission. Please review safety protocols before your visit.