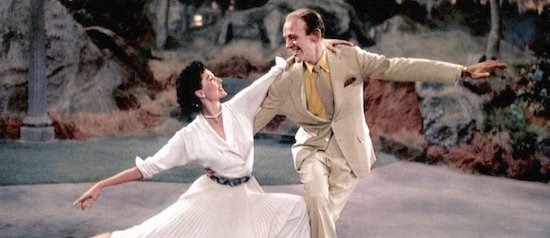 Screening
The Band Wagon
Part of Musical Matinees
Saturday, August 7, 2021, 12:30 p.m.
Museum of the Moving Image - Redstone Theater
Dir. Vincente Minnelli. 1953, 111 mins. 35mm. With Fred Astaire, Cyd Charisse, Oscar Levant, Nanette Fabray, Jack Buchanan. One of the crowning glories of American musical cinema, The Band Wagon is a triumph of the form, recycling the old backstage theater formula into a winsomely graceful celebration of the virtues of popular art. Playing a version of himself as an aging Hollywood star, Astaire leads a cast that includes Fabray and Levant, standing in for the film's real-life writers Betty Comden and Adolph Green; Buchanan, incarnating a pretentious, blowhard actor-director à la Orson Welles; and Charisse, playing the ballet dancer turned show business ingénue she then was. The Band Wagon elevates these Hollywood traditions to new heights of technical display ("A Shine on Your Shoes"), self-reflexive comedy ("That's Entertainment!"), and sublime visual poetry ("Dancing in the Dark").
Tickets: $15 / $11 seniors & students / $9 youth (ages 3–17) / $7 MoMI members. Order online. After your purchase, an electronic ticket will be sent via email. All seating is general admission. Please review safety protocols before your visit.