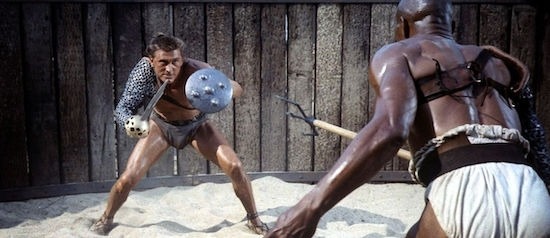 SCREENING
Spartacus
Dir. Stanley Kubrick. 1960, 184 mins. 70mm. With Kirk Douglas, Laurence Olivier, Jean Simmons, Charles Laughton, Peter Ustinov, John Gavin, Tony Curtis. A genre-defining epic from director Stanley Kubrick, this is the legendary tale of an enslaved gladiator (Douglas) who transforms into the beloved leader of a triumphant Roman slave revolt. Filmed in glorious Technicolor, the action-packed spectacle won four Academy Awards, including Best Cinematography and Best Art Direction. This was Kubrick's first feature in color and his first use of a widescreen format. The final battle between Spartacus's fighters and the geometrically arranged Roman army capitalizes on the cinematic scope offered by the Super 70 Technirama format.
Tickets: $20 public / $15 MoMI members. Order online.
After your purchase, an electronic ticket will be sent via email. All seating is general admission. Please review safety protocols before your visit.