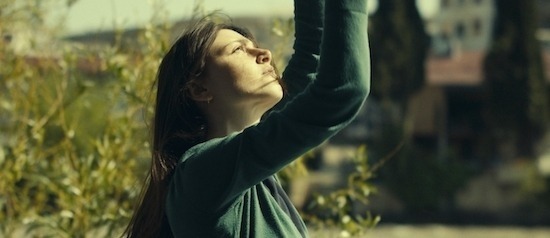 Screening
What Do We See When We Look at the Sky?
Part of Curators' Choice 2021
Sunday, December 26, 2021, 1:00 p.m.
Museum of the Moving Image - Bartos Screening Room
Dir. Alexandre Koberidze. Georgia. 2021, 151 mins. DCP. In Georgian with English subtitles. In the Georgian riverside town of Kutaisi, summertime romance and World Cup fever are in the air. After a pair of chance encounters, pharmacist Lisa and soccer player Giorgi find their plans for a date undone when they both awaken magically transformed—with no way to recognize each other. Koberidze's second feature is a wholly original and thoroughly enchanting work of cinema, mixing romance with wry humor, naturalism with magical realism, exercising unbound artistry while remaining firmly grounded in place, time, and vibe. Winner of the FIPRESCI Prize at the 2021 Berlin International Film Festival and a Main Slate selection of the 2021 New York Film Festival. A MUBI release.
Tickets: $15 / $11 senior and students / $9 youth (ages 3–17) / discounted for MoMI members ($7–$11). Order tickets.
Please pick up tickets at the Museum's admissions desk upon arrival. All seating is general admission. Review safety protocols before your visit.