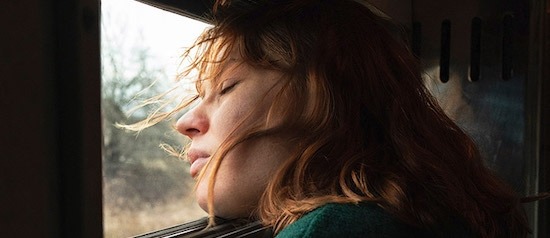 PREVIEW SCREENING
Compartment No. 6
Part of Curators' Choice 2021
Sunday, January 16, 2022, 6:00 p.m.
Museum of the Moving Image - Redstone Theater
Dir. Juho Kuosmanen. Finland/Estonia/Germany/Russia. 2021, 107 mins. In Finnish and Russian with English subtitles. In Kuosmanen's lightly nostalgic nineties romance, Laura (Haarla), a diffident Finnish archeology student adrift in the snobbish intellectual circles of cosmopolitan Moscow, books a train to Murmansk where she hopes to find the famed Kanozero Petroglyphs, prehistoric rock drawings some 3000 years old. Separated from her emotionally absent girlfriend and finding herself in a too-cozy sleeping cabin with an uncouth charmer of a Russian migrant worker (Borisov), Laura quickly begins to doubt her quest and her life. Evocative of the ruminative cinema of Richard Linklater and Sofia Coppola, and already worthy to be counted among the great train movies, Kuosmanen's film is a sweetly wistful wonder. Co-Winner of the Grand Prix at the 74th annual Cannes Film Festival. A Sony Pictures Classics Release.

Tickets: $15 / $11 senior and students / $9 youth (ages 3–17) / discounted for MoMI members ($7–$11). Order tickets. Please pick up tickets at the Museum's admissions desk upon arrival. All seating is general admission. Review safety protocols before your visit.